DREAMSEA Student Research
"Promoting Indonesian Cultural Diversity through Digital Manuscripts"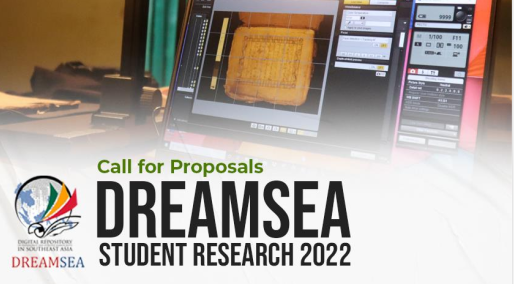 The Digital Repository of Endangered and Affected Manuscripts in Southeast Asia (DREAMSEA) is a program to preserve and rescue manuscripts stored by the peoples of Southeast Asia. This program was initiated in 2017 by the Center for the Study of Islam and Society (PPIM) UIN Syarif Hidayatullah Jakarta in collaboration with the Center for the Study of Manuscript Cultures (CSMC) University of Hamburg Germany. Dreamsea has successfully digitally documented 6,500 manuscript volumes with approximately 400,000 images that have been stored in an online database. With this wealth of digital data already owned, DREAMSEA invites graduate students to participate in a research entitled: DREAMSEA Student Research "Promoting Indonesian Cultural Diversity through Digital Manuscripts".
Purpose
This program aims to facilitate postgraduate students in conducting research on Indonesian manuscripts that have been digitized and available in the Dreamsea database. The manuscripts can be accessed through https://dreamsea.co/repository. Please visit the website to understand the technicalities of accessing the data that has been stored in the database.
Terms and Conditions
This research is open to active postgraduate students, from various disciplines, both those studying at Indonesian and foreign campuses. In addition to textual studies of digital manuscripts, anthropological-based research and the development of the digitization of Dreamsea manuscripts are also considered for funding through this program.
Research proposals are received no later than September 7th, 2022 in PDF form.
Proposal Writing Provisions
1. Proposals are written in Indonesian.
2. There are research titles, research abstracts (150 words), and keywords.
3. The length of the content of the proposal is a maximum of 2,000 words and is able to explain aspects of its scientific novelty.
4. Submit a draft budget for research costs.
5. The research has never been published or funded by any party.
6. Attach a curriculum vitae and student identity number.
The selected proposals will be announced on September 16, 2022 and get research funds of up to IDR 5,000,000 (Five Million Rupiah) each. The research and process of writing full articles will be carried out in September-November 2022 accompanied by experts in the field of Indonesian manuscripts. In the next stage, the articles will be presented in an international colloquium to be held in December 2022 and followed up by publications in the form of monograph books and journals.
How to Access DREAMSEA manuscripts
DREAMSEA provides free and open access to digitized manuscripts from various collections in Southeast Asia. You can access all manuscripts that have been uploaded to our online repository through the DREAMSEA website portal. You can read the details of how to access the collection on the guide page.